Healthwatch 2019 - Supporting materials for running a session
Each year, you share learning from your work at our annual conference. If you're running a session at Healthwatch 2019 take a look at our resources to help you deliver your presentation.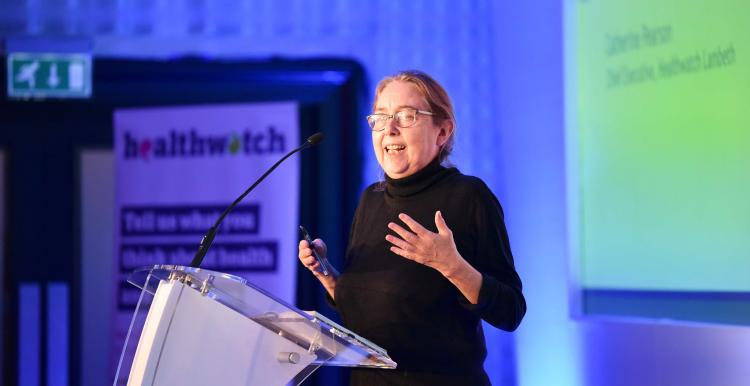 To make sure that conference is a positive and valuable learning experience for everyone, each year local Healthwatch run conference sessions for other network staff and volunteers. 
To help you run your session we've put together some top tips, what you need to do to make your session accessible and a PowerPoint template for you to use. 
Top tips on developing your session
Make your session interactive - this will help engage more people with the content and make the session more memorable. 
Think about the messages of your session - we can provide thoughts on key messages from a Healthwatch England perspective if you would find this useful. 
Bring the right materials and equipment - you will need to bring your own laptop and any printed worksheets or hand outs for your session. We will provide you with screens, projectors, pens and flip-chart paper, but make sure you think about any other materials or equipment you might need for your session. 
Create an engaging PowerPoint - if you use PowerPoint people tend to engage with and remember information if it is communicated in small clear clear sections. To do this try to use high quality photography, avoid slide transitions and limit bullet points and long bits of text.
Use the right PowerPoint format - you do not need to use a PowerPoint presentation for your session or the template we provide. However, if you do wish to use PowerPoint, it needs to be in a widescreen format (16:9).
Provide links to online resources - please provide links to any online resources if you're using them as part of your session. It's also a good idea to keep them listed on a separate document, in order, should the links embedded in your presentation not work. 
Don't rely on Wifi for videos - if you want to use video to support your presentation, we'd recommend having a copy of the video on your laptop and embedding it into your presentation rather than using the Wifi. 
Leave time for questions and the evaluation - make sure you leave time for questions and discussion and five minutes at the end for evaluation. We will provide you with a form. 
Use Workplace - to build excitement and to get feedback on the content session, ask a question in the Healthwatch 2019 Workplace group.
Accessibility
Although we will let you know if anyone with accessibility requirements has booked onto your session, there may be an instance of someone joining in who has not booked. Therefore, all sessions need to be accessible. Please make this a consideration during your planning. 
When planning your session you should take into account:
How your room is laid out
The content your session is covering
How you're intending to run your session
That any resources you want to use are available in an accessible format in your session. If this online you will need to provide people with a link to where they can be found. 
Any videos you use must include subtitles and have a transcript available on request.