Meeting face-to-face: Protecting our staff, volunteers and the public
With COVID-19 restrictions having been reduced in most areas of England, we have reviewed our guidance about meeting staff, volunteers or the public face-to-face. This guide looks at questions local Healthwatch leaders should consider.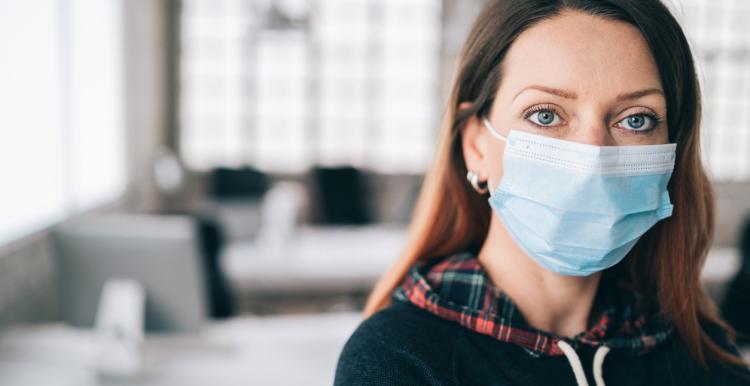 A changing environment
Since the start of August, we have seen the Government further ease lockdown measures, and the pausing of shielding for many people. We've also seen some areas have had additional local restrictions imposed in response to local outbreaks of COVID-19.
With such a fluid situation, it is paramount that we continue to take steps needed to reduce risk and protect our staff, volunteers and the public we serve. This guide aims to help local Healthwatch leaders identify the issues they should consider when returning to workplaces or restarting face-to-face engagement and provides links to further help.
The information provided has been developed using Government guidance, feedback from local Healthwatch services and considers the Care Quality Commission's approach to inspecting health and care services.
---
Key areas of focus
The following section looks at the key areas where we believe local Healthwatch leaders should focus their attention.
Continue to keep abreast of changing guidance
The Government, as well as relevant agencies, continues to update and evolve guidance that aims to transition out of lockdown, whilst at the same time preventing further outbreaks, through steps such as:
Introducing local restrictions;
Updating social distancing measures; and
Evolving guidance for work and health and care settings.
You can stay abreast of the latest guidance by visiting the Governments COVID-19 guidance page.
You can also sign up to email alerts that inform you when changes are made to guidance.
Carry out a thorough COVID-19 risk assessment
Before going back to the workplace or carrying out face-to-face activities, the legal entity for your local Healthwatch (e.g. Community Interest Company, company limited by guarantee, Charitable Incorporated Organisation) must ensure the safety of your workplace by carrying out a risk assessment in line with Health and Safety Executive guidance. The Board has ultimate responsibility for the safety and welfare of employees and volunteers.
The HSE guidances states that you must:
Identify what work activity or situations might cause transmission of the virus;
Think about who could be at risk;
Decide how likely it is that someone could be exposed; and
Act to remove the activity or situation, or if this isn't possible, control the risk.
The NCVO has also produced further details on how to carry out a risk assessment, including a risk register template.
Ensure workplaces are safe before staff can return
From 1 August 2020, the Government's advice on going to work changed. The Prime Minister said:
"Instead of government telling people to work from home, we are going to give employers more discretion, and ask them to make decisions about how their staff can work safely."
This could still mean continuing to work from home, or it could mean making workplaces safe by following COVID-secure guidelines. The Government has produced guidance for employers to ensure that workplaces are safe. The guidance, which includes advice on making offices and contact centres safe, is based on five steps to working safely.
Five steps to working safely
1. Carry out a COVID-19 risk assessment
2. Develop cleaning, handwashing and hygiene procedures
3. Help people to work from home
4. Maintain 2m social distancing, where possible
5. Where people cannot be 2m apart, manage transmission risk
Protect people who are at higher risk
As well as making sure workplaces are COVID-19 secure, HSE guidance also emphasises the importance of considering the risk to workers who are particularly vulnerable to COVID-19 and putting controls in place to reduce that risk.
Further resources
We would urge you to also read guidance produced by NCVO for employers. The resource deals with areas such as working safely, travel arrangements, employees' rights and the importance of clear communication with staff, volunteers and service users.
Find virtual ways to discharge our functions
Healthwatch England previously advised local Healthwatch not to hold face-to-face events or return to do their work on health and care premises, including 'Enter and View' activity.
Given the current situation, we continue to advise against holding face-to-face events, including visiting health and care premises, unless you can satisfy stringent safety measures after carrying out a thorough risk assessment. The safety of staff, volunteers and members of the public remains paramount. You should consider whether there are safe alternative approaches to achieving the same outcomes or choosing alternative work.
In reaching this view, we have considered the approach of the Care Quality Commission which has prioritised keeping people safe and has halted routine inspections of health and care premises and only carries out inspections where it has been alerted to serious concerns about people's care or human rights breaches.
Who to talk to before restarting face-to-face engagement
This situation may change over the months ahead but before restarting face-to-face engagement or visits to health and social care services we would strongly advise discussing the situation with:
Your Healthwatch England Network Development Team Regional Manager to understand our current position
Your local Care Quality Commission team to understand their approach
Your local authority commissioner and any partners or services you intend to work with to carry out a comprehensive risk assessment.
Exploring virtual visits
Unable to visit services in person, some local Healthwatch are carrying out 'virtual visits'. Working in partnership with care organisations, local authority commissioners and the Care Quality Commission to carry out interviews via video link, over the telephone or on-line with service users, their families and staff. Although this cannot be legally classed as 'Enter and View' activity, it can still help to gather evidence during the current situation.
Focus on taking an inclusive approach
Coronavirus is having a disproportionate impact on certain groups within our communities, including Black, Asian and Minority Ethnic people. Local Healthwatch services have a key role in making sure that the experiences of every section of the community are heard.
To help you, we have initiated several workstreams to help local Healthwatch establish:
The best approaches to digital engagement;
How we can reach out to people who are digitally excluded; and
The impact of COVID-19 on people from Black or Asian backgrounds.
Please talk to your Healthwatch England Network Development Team Regional Manager to find out more.
---
Other questions you may have
Please let us know if you have any questions where further guidance may be required. The following section outlines responses to key questions that local Healthwatch leaders have asked.
What should I consider when it comes to involving and managing volunteers?
To help you support your volunteers, local Healthwatch have helped produce two resources:
Volunteer role descriptions, which take remote working into account and cover the roles of Online feedback collector, Information and signposting volunteer, Digital communications volunteer / Social media volunteer and Publications and document editor.
Managing volunteers remotely guidance to help anyone responsible for managing volunteers remotely
Further resources
The NCVO guidance for employers also provides further advice on supporting and managing volunteers during the COVID-19 outbreak covering key issues such as supporting the wellbeing of volunteers, safeguarding, data protection and COVID-19 testing.
What questions should our Board or Advisory Group consider when thinking about the impact of COVID-19 on our work?
The NCVO has also produced a useful set of questions that trustees can consider when thinking about how they can support their organisations. Questions include:
Do you need a plan covering key risks, mitigations and lines of decision making?
What are our most essential services or work?
Can we reprioritise work?
What organisations can we partner with to deliver work?
Do our staff or volunteers need extra support?
How do we meet our obligation to hold meetings in public?
The legislation that relates to the work of Healthwatch, requires you to hold meetings in public when you are making decisions about statutory activities. However, the legislation does not state whether these meetings must be held as physical meetings.  must be held as physical meetings.
Given current Government advice, we would advise you to continue to hold any public meetings remotely.  To help ensure that these meetings are accessible, the Internet Society has produced a useful checklist.
The Charity Commission has also produced advice for charities about holding meetings, including Annual General Meetings. If you are a charity, the guidance emphasises the importance of checking your governing document to ensure you understand what it says about holding meetings.
Further resources
NCVO has also produced advice on coronavirus and governance which covers charities and references a court ruling that for legal purposes a meeting should require people to be able to both see and hear each other, which would include videoconferencing.
Got a question?
If you have a question, please either talk to a member of staff or post a question on the COVID-19 Workplace group.