This guidance explains how to resize images in Microsoft Office Picture Manager and Microsoft Paint, both of which are free and often already installed on your PC by default.
Resizing pictures with Microsoft Office Picture Manager
Picture Manager is slightly more advanced than Microsoft Paint and has a few additional functions for editing pictures.
Find the picture you want to edit in your documents, right click and then go to Open with and select Microsoft Office.
To resize images, go to Picture → Resize
Top tip
When saving for web, always work from a copy of your original high-quality image. Keep the original in case you need it again. Once an image is compressed, the extra data (and image quality) is discarded.
Using the 'Percentage of original width x height' option in the right-hand menu, use the arrows to decrease the size. The 'original size' is the size the image was when you opened it and the 'new size' is the size that you're changing it too. The 'new size' will change as you decrease the percentage.
Cropping images
If you need to crop the image go to Picture → Crop
Here you can either drag the corners of the image, or use the arrows in the right hand menu to trim your image down to a more precise size.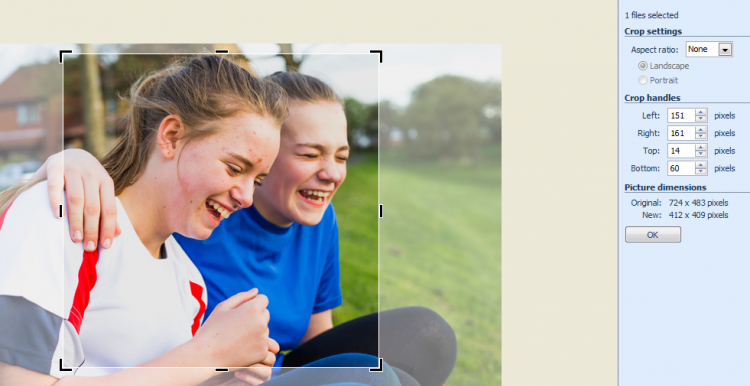 Top tip
When resizing an image, avoid stretching small images to a larger size, which creates pixelation. Large images can always be scaled down, but small images cannot be made larger without sacrificing image quality.
Resizing pictures with Microsoft Paint
Microsoft Paint is a very basic picture editing program, so it has quite limited functionality. However, it does provide a simple and quick way of resizing images.
Open Paint – Start → Programmes → Accessories → Paint
Open the file you want to edit
Click Resize
This will bring up the Resize and Skew pop-up.
Select the pixels option
Untick maintain aspect ratio and put in the dimensions you need and click 'Ok'
If doing this has distorted your image, then you will need to click undo and crop your image first. For example, if you have an image that is 246 x 246 pixels and you want it to be 200 x 74 pixels simply resizing it will distort the image.
Resizing pictures for social media
Landscape by Sprout Social is a free online tool that helps you resize, crop and scale images ready for use across multiple social media platforms.
Use this cheat sheet to to see all of the correct dimensions for pictures across the different channels. 
Don't forget
You will need to get consent from people that you take pictures of at events. Use our consent form.