Healthwatch Network Awards of Achievement 2020
Every year we celebrate the best work from across the Healthwatch network. Find out about our 2020 awards, how you can apply and download the award criteria.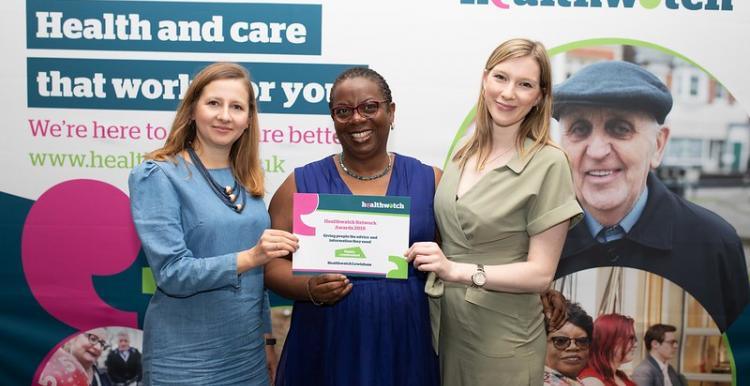 To recognise and celebrate the hard work and achievements of local Healthwatch across the network, we are inviting you to apply for the Healthwatch Network Awards 2020.
Award categories
The impact our team makes
This award celebrates the the collective impact of one Healthwatch team, in delivering a project that supports improvements to health and social care services. 
The impact we make with partners
This award celebrates the skills, benefits and collective impact of a Healthwatch team when working with partners to deliver a project that supports improvements to health and social care services. This includes working with other local Healthwatch or sector organisations. 
Celebrating our volunteer team
This award celebrates the vital role that volunteers play in contributing to the effectiveness and success of local Healthwatch.
How to apply for an award
Download the guidance documents

Decide what category you want to apply for

Apply for the category using the online form
Download award criteria and guidance
Submit your application
The entry form is now closed. We will announce the shortlist in October 2020. 
Healthwatch network award FAQs
Why are the categories not the same as last year?
In light of the changing landscape, extensive consideration has been given to the way in which we can deliver the awards this year. We appreciate that there are limited resources and capacity across the network as we move into a new normal. There are also considerations in moving the awards from a live event to an online platform. With these factors in mind, we will focus on three categories that highlight the outstanding achievements Healthwatch teams collectively make. The awards categories will then be refreshed for 2021, when we once again hope to be able to celebrate at the National Conference live event. 
When is the closing date for applications?
The deadline for all award entries is Monday 14 September. Any entry received after this date will not be considered.
How many categories can we apply for?
To make sure there is a fair and even process for all entries, every Healthwatch can submit one entry per category. You cannot enter the same category twice. The project you enter must have been delivered as part of the last Annual Report year (2019/20). You cannot enter your work delivered on the Long Term Plan. Please note that projects related to COVID-19 activities will be a focus for the 2021 awards. 
What should you include in your submission?
To support your submission, you can include supplementary evidence as detailed in the guidance notes. This could include, links to pictures from events, news articles/media, reports, resources and written materials. Please read the guidance notes for each award as they include information and criteria specific to each category. 
How do we enter the awards?
All entries should be submitted via the online form. Before completing the process, please use the guidance documents to address the requested criteria points and review your entry before submitting the final version. Once submitted, this will be taken forward as your entry for the award.
How will my submission be judged?
All detail you include in your awards submission will be used to judge your entry.
A panel made up of Healthwatch England committee will judge the awards based on a shortlist provided to them. The short list will be drawn up by scoring applications based on the criteria set out above.
What happens next?
All applicants, including those shortlisted, will be notified the week commencing 28 September, and award winners will be announced during Healthwatch Week, 2 - 6 November.  Further information on the conference will be announced in due course.
I have a question about the awards, who do I email?  
You can get in touch with us by emailing annualconference@healthwatch.co.uk or by asking your question in our Healthwatch Week Workplace group.