Identifying outcomes and talking impact
The Impact Programme is helping you ensure your engagement and research activities lead to positive improvements in people's health and wellbeing while better communicating to commissioners how this benefits people's lives.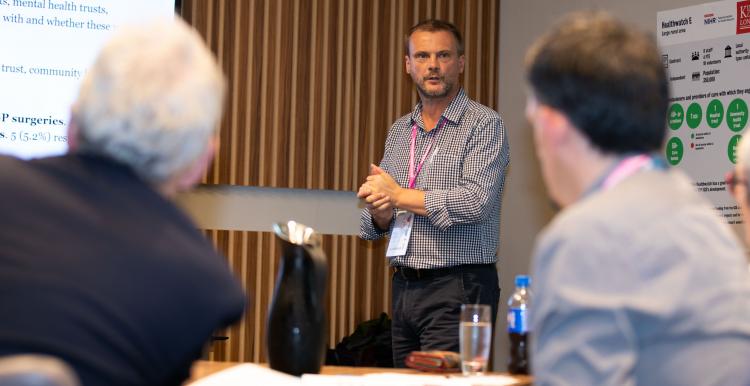 Healthwatch is about listening to people. But listening for listening's sake is not enough.. Feedback has to lead to change. 
Our brand messaging puts impact front and centre because:  
It builds trust with local people, including those whose voices are not being listened to, by showing that sharing their experiences with us is worthwhile. 
It increases the trust of local partners and makes it more likely they will act on what the public has told us. 
It demonstrates to our funders that we provide value for money. 
Helping you show your impact
We recognised the value of using a Theory of Change model to underpin planning processes early on. It formed the foundation of our Making a Difference Toolkit which was developed and tested by ten grant-funded Healthwatch. 
We have developed a range of other resources for the network, including a popular impact tracking spreadsheet to help a Healthwatch team log and follow-up on anticipated outcomes. 
"We've found all the related templates and guidance to be invaluable to our team.  They are easy to understand and give us a complete journey from theory, to concept, to delivery, to finished report and influencing.  We feel we have a much more professional approach, and this has helped us when collaborating with other stakeholders … we are getting more organisations contacting us because of our efficiency. If only we had had these in 2013, we could have conquered the world by now!" 

Healthwatch Darlington
Between September 2020 and March 2021, 69 Healthwatch participated in Impact Programme workshops or received one-to-one support, with 78% confirming an immediate increase in confidence around outcomes and impact. 
"We all found it really helpful and definitely something we can use going forward for other pieces of work … it really makes sense now! Thanks again." 

Healthwatch Rotherham
The difference we're making together 
We see changes to how you plan, follow-up on and communicate about projects. Now also starting to use our new Planning guidance and checklist, there's a far greater focus on outcomes and impact at every stage. Often the impetus to focus more on impact has come from completing the Quality Framework self-assessment. 
Reviewing this year's annual reports showed how far things have progressed. Following conversations we've all had about attribution and language around outcomes, there's been a noticeable increase in confidence around taking credit for positive changes achieved for service users. 
We worked collaboratively with the CCG to successfully secure funding which will establish new mental health support teams within schools providing more early intervention and low-level support for young people. This also means more support can now be offered to parent carers. A new parent peer support group is being implemented in the coming months.

Healthwatch Darlington Annual Report 2020/21
The recommendations from our 2019 report on young people's oral health have been reflected in the 2021 Oral Health Strategy. This includes recommended actions of:- 

• Integration of oral health into targeted home visits by health/social care workers 
• Supervised tooth brushing in targeted childhood settings 
• Targeted peer support groups/peer oral health workers 
• Healthy food and drink policies in childhood settings 

Healthwatch Blackburn with Darwen Annual Report 2020/21
I'm excited to see even more achievements with next year's reports, where hopefully the benefits of our Impact Tracker will be further realised. 
Our conversations with local authority commissioners of the service confirm that they very much support this increased focus on outcomes. Whilst they understand that sometimes delicate stakeholder relationships can make it difficult to shout about impact, there's no escaping the need they see to help ensure people can pinpoint how Healthwatch has contributed to improvements to services. 
Get involved 
I share your perspective that, ultimately, the Impact Programme is about the sustainability of the Healthwatch service. With emerging Integrated Care Systems, we will also need to demonstrate our collective impact at this level. 
If you've not already, please do make full use of the impact resources. Look out for more coming soon! It's also really crucial to ensure your website demonstrates your impact, and we're working now to revise that template page on our platform. 
If we can successfully articulate the full cost-benefit of a strong Healthwatch service, then I know we can be confident about what we have to offer and have a stronger case for support. 
Get in touch 
Want to know more? Just get in touch with me or your Regional Manager.