Healthwatch Commissioners and Healthwatch England working better together
Hear from Saba, a Healthwatch Commissioner about her views on where Healthwatch is going and what she's most looking forward to when it comes to supporting the network to be the best it can be.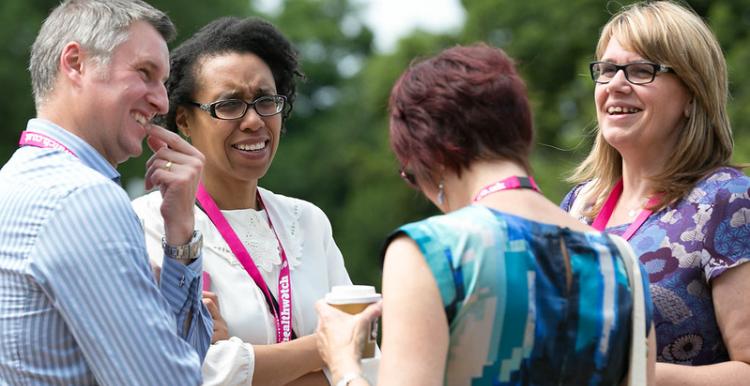 It's hard to believe Healthwatch has been in place since nearly a decade, and in Healthwatch Commissioners terms, I feel like a dinosaur as I have been here almost from the beginning!
Over the years, Healthwatch England has worked hard to provide leadership, guidance and support to local Healthwatch and commissioners alike.  This support felt much more visible at  the outset as we all beavered ahead in setting up the Healthwatch function in our respective areas, and over the years, there have been times when as a commissioner, I thought, 'What is Healthwatch England doing now? What are they working on? What can we help with?'
At an event for Healthwatch Commissioners in July, we collectively agreed to work closer with Healthwatch England to help shape the support provided to local Healthwatch and Commissioners.
As part of this, we decided to set up a Commissioners Reference Group. With this group, we hope to work closely with Healthwatch England to shape and improve guidance and support to local authorities with our statutory duty to commission effective local Healthwatch.
At the event in July, we heard from Healthwatch England colleagues about the things they are currently prioritising, a key one relating to the changes in health structures and the implications this might have on local Healthwatch including:
The role of local Healthwatch at ICS level
What capacity and resource might be needed
How we can capture good practice and highlight challenges to stakeholders and decision-makers.
They're currently bringing this together into a toolkit, supported by webinars and training for local Healthwatch to help them to influence Integrated Care Systems and add the most value.
As a representative on this board, I'm hoping to support Healthwatch England with planning events, shaping policy, sharing commissioning practice and grappling with some old age conundrums such as 'demonstrating impact' and looking at whole structures, systems and processes through an equality, diversity and inclusion lens.
Another important aspect for me will be the responsibility of being an effective 'representative'.  How other representatives and I bring in the broader perspectives of commissioners and how we ensure we keep them up to speed with some of the key things happening is central to making this work.
We all know how important it is to collaborate, and this Reference Group brings enormous potential. Having a way for us to share what we're working on, learn from one another and work together on live issues will make a big difference and add strength to the network.
We're all working to that same end goal; we all have a vested interest in Healthwatch and ensuring everyone gets the health and care they need.
So I want to end by letting you know how I'm feeling right now… I'm feeling hopeful that by working better together we can have a greater impact at a time when it is possibly needed more than ever!
Register for Healthwatch Week 2021
Healthwatch Week is back, so get ready for four days of online sessions from 9-12 November. Register now to avoid missing out!